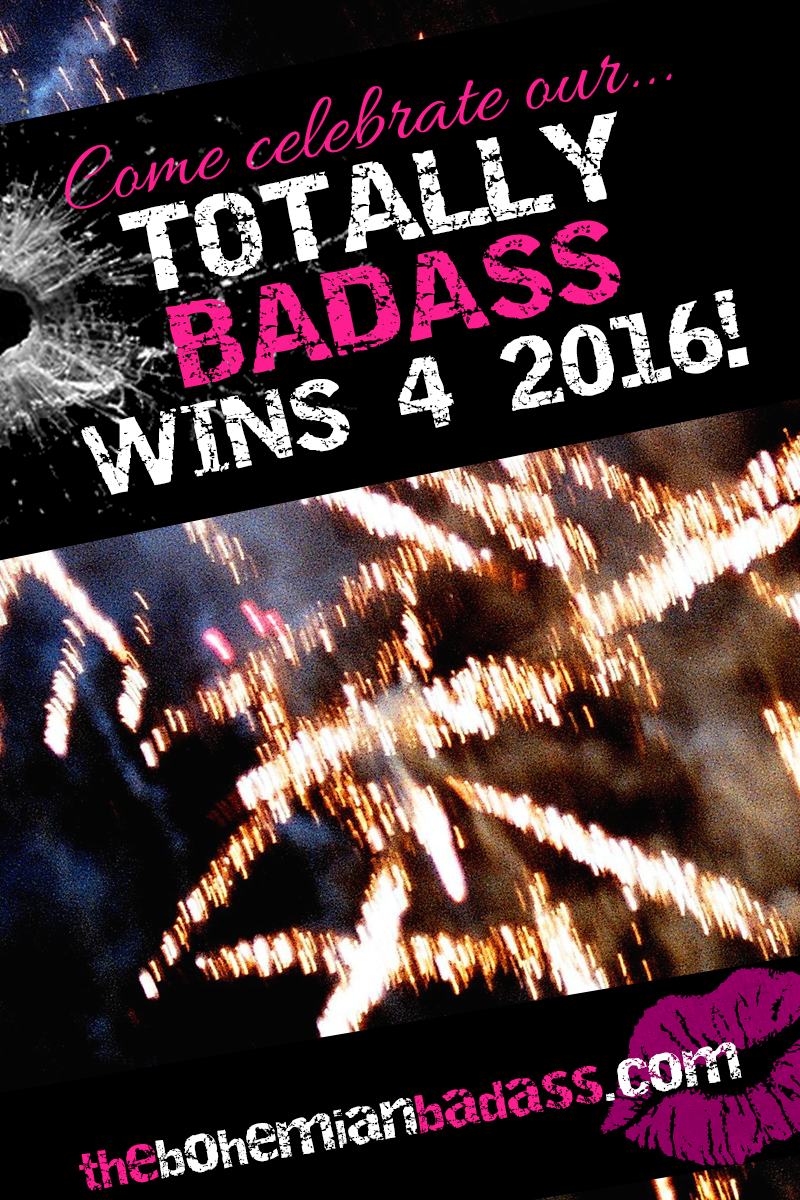 ---
Yo Badasses!
SO! 2016 was a whirlwind year for The Bohemian Badass, despite the fact that there was little happening on our website.
I spent a LOT of time behind the scenes working on some fundamental and foundational aspects of the blog and business, and now in 2017?
WE'RE READY TO ROCK!
But first…
Before we blast off, I just wanted to offer you guys a super sneak peek at what I've been working on for y'all. (And, of course, there'll be some awesome hints (or not so hinty hints) on what is coming for 2017!)
Check out our creative achievements for The Bohemian Badass this year.
---
1. Grew The Bohemian Badass site, scope, and skills (slow and steady)!
The first year was a big "learning-on-the-job" year for me.
I not only tweaked and evolved The Bohemian Badass, but I also tweaked and evolved as a creative coach! I realized what I enjoyed doing and what I didn't, and I also dove head-first into new kinds of "coaching" methods, including giving masterclasses and boot camps! (Which I LOVE, by the way.)
Some of the chief things I accomplished with/through the Bohemian Badass included:
A stark website rebrand and evolution
A BRAND rebrand, chiefly with a font upgrade! (you'll see more of this when I officially transition in 2017!)
6 blog posts written and published (yes, sad, I know! But I'll get better this year!)
Soft launch of the B-Badass Podcast + 2 podcasts recorded and published
4 live masterclasses given on Writing Badass Metaphor
1 15-day Periscope Bootcamp launched on "Crushing Writers' Block"
More blogs, more podcasts, more evolution, and more courses are going to be the push for this year at The Bohemian Badass. I'm focusing on making the posts, blogs, vlogs, and podcasts more consistent every week with the occasional FREE upgrade goodie included for you! Stay tuned!
2. Developed a production protocol for the courses I'm building for The Bohemian Badass!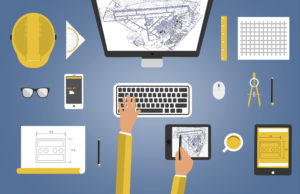 This was exciting! I tend to be pretty methodical, and while I do dive headfirst into most things, I also tend to do a lot of research, testing, and tweaking until I develop a process for creating a product.
This might seem like a waste of time for most folks, but for me, having a solid method and protocol for building a product allows you to assess your progress and mark that product's milestones on the way to completion.
So I'm introducing you all to MY protocol for creating courses.
Here it is:
Concept —- Outline —- Course Diversity Plan —- Course in Beta —- Course in Alpha —- PUBLISH!
(Concept)ualization is that I have an idea for a course that I'd like to create, and I've fleshed out and brainstormed that idea. I've identified a gap in the market or an unfulfilled need or my community merely tells me what they want, and I develop a course concept to fill those needs.
Outlines represent the courses that I have enough material for such that I can start creating modules and lessons for them. At this point, each module is just a one-line title of what will be covered in the course and each lesson is a step-by-step roadmap towards fulfilling the title's goal.
Course diversity plans are ideas of the different formats I'd like the course to appear in. Will it be just a masterclass, a workbook, a full course, or all three? Can this course be combined with another course to give you guys maximum value? Etcetera.
Course in Beta: this is where I'm developing the actual material and lesson plans for the course. Rough drafts and idea dumps are common in the beginning of this phase; the worksheets and materials haven't been prettied up yet, either. The focus is mostly on getting the content of the course on point and on providing the best, clearest, digestible information and materials possible. This is where my courses spend the MOST time in production. The final part of this process is that I invite beta-testers into the course for free so that they can go through it and give feedback!
Course in Alpha: After the feedback has been received by the beta testers, I polish the content. Then, I bust out the graphic design skillz and start making all the materials pretty! I design a logo for the course, build a brand board, choose brand colors, form a hashtag, create the webpage and hosting space, record the presentations, edit videos, and WAY more. I like my courses sleek and chic in their physique, if you get what I mean.
PUBLISH! The course is ready for its students! Come one, come all, and upgrade your skillz to the max!
So yeah, looks intense and complicated, but this is what it takes to produce the highest quality work (according to my own standards). Plus, as I push my courses through these phases, the process gets faster and easier. Maybe if you're considering being an infopreneur and course creator yourself, you might want to adopt a similar protocol! 😉
3. Conceptualized 18 craft courses for The Bohemian Badass School for Creatives
Now that you know more about my production process, I can introduce you to my production pipeline!
One thing I learned? I. LOVE. CREATING. COURSES. Love it! So that's going to be a major method of delivering you guys the best craft material out there. Courses + masterclasses. I love creating courses SO MUCH that I conceptualized 18, yes, E-I-G-H-T-E-E-N, of them this year. Yowzas, lol.
I'd love to give you a peek as to what those are, but there are WAY too many to list out here. Plus I don't want to give away ALL my secret sauce! You'll just have to stay tuned to our blog, podcast, and masterclasses to find out what they are! 😉
Seeing what direction I wanted to take our Badass content was loads of fun. Of course, I have my own ideas, but more importantly, I'll be asking you guys about YOUR ideas and concerns in the not so distant future.
In order to better serve you, I need to know what you're interested in learning, right? So stay tuned and, when I start asking, let your voice be heard!
4. Developed 9 in-depth course outlines & diversity plans for The Bohemian Badass School for Creatives
Of the 18 craft n' course ideas I conceptualized for The Bohemian Badass, I actually moved 9 of them up the production pipeline and created outlines and diversity plans for them!
Here's a hearty list of the courses that I've outlined and diversified:
Metaphor Maven (full course)
Writers UnBlocked: The Pre-writing Edition
Writers UnBlocked: The Chapter Writing Edition
Breaking Badass
Novel Kickstarter
Plot Like a Badass
Description Deity
Write Badass Action Scenes
Writing the Cinematic Novel
5. Moved 3 courses into BETA!
Over this past summer, I hosted a live masterclass on creating amazing metaphors, and I also held a 15-day Periscope boot camp.
I had to produce the materials pretty quickly, but after all was said and done, I ended up with a LOT of course material that I fashioned in BETA-level courses. So NOW, I have three courses on the horizon for this year, included:
And, of course, I fashioned that material into BETA-level courses.
So NOW, I have three courses on the horizon that I can offer you guys in 2017, including:
Metaphor Maven (masterclass)
Writers UnBlocked: The Pre-Writing Edition
Writers UnBlocked: The Chapter Writing Edition
And the best part? Two of them are 100% FREE! Stay tuned! 😉
6. Moved 2 courses into ALPHA
Writers UnBlocked: The Pre-writing Edition and Metaphor Maven (masterclass) are the two courses that I'm currently working on turning into alpha-level courses. And as soon as they are done, you'll hear about them and be able to join them!
Now, how is that NOT badass?
---
Yeah, bruh. Courses, courses, everywhere! But this year, it's also time to get some consistent intel up on on the website. So starting THIS WEDNESDAY, with a brand new podcast, I'll be seeing you guys on The Bohemian Badass and giving you the best intel on novel writing, screenwriting, filmmaking, and game design EVA! In the meantime? HAPPY NEW YEAR! And…
Stay badass,
<3 Colby