---
Hiya Badasses! Colby here!
SON!
So, as I wrap up my creative year on my author blog, I also thought it'd be super important (and awesomely) to hightail it over here and LAY DOWN my plans for this sexy (potentially sexy?) business for the year of 2016.
Things I'd love to WILL do at The Bohemian Badass in 2016:
Goal #1: Create literally the baddest ass, sexy-brand-flossin', info-packin' creative blog, community, and business of all time that serves up the sickest value EVA
So, yes, I realize that I'm a new kid on the block. There are other biggies and baddies out there who are just KILLING this blogging game, and I love AALL of them (total fangirl here)! They're making the coolest moves, setting the trends, and dropping crazy knowledge on how to be a badass boss (BAWSE) who makes an independent, lifestyle-based living.
But I have dreams too, yo. I dream of a place (mine) where women who want to create (ma peeps) can come here to The Bohemian Badass (da crib) and learn how make all the cool stuff they've ever wanted to make EVER (get mad skillz).
We've got the Bohemian Badass Social Network. We've got the blog space. We've got the idea(z). So we need to do this ish. Or in The Bohemian Badass' sacred and holy language "Badassian": we need to #createdatish.
And when I say WE, I don't mean "we" in the "You, Me, and Irene" sense, but in that I want YOU to be there with me! Because this is a community. Of badasses. Doing the baddest ass creative stuff EVA.
Goal #2: Put together LOTS of sweet, badunka free stuff for ya'll
No, I didn't make up the word "badunka", but I sure as heck re-appropriated the F*CK out of it just now. (BOOM!)
From here on in, BADUNKA means "supremely awesome". Not that booty-clappin', earthquake-in-assery, type stuff.
ANYWHO, where was I? Oh yeah!! I'm putting together the illest FREE courses, workbooks, master classes, e-books, audiobooks, and more for you guys; and I have to say, creating all this stuff does make me feel pretty awesome.
Because I think you'll fucking LOVE it.
Because I think it'll rock your socks.
Because I think it'll make you question what you're currently doing with your life.
Because I think it'll help you take some seriously actionable steps towards unlocking your creative potential.
Because when you're done gobbling up my free stuff and taking the action steps I lay out, you WILL have created something significant: like maybe a book, a book outline, a script, a game demo, a game design document, a creative project slate, a blog, or maybe even a whole friggin' creative empire just ready and rearin' to go dominate! (Hint, hint!)
So stay tuned. I'm already gettin' my slow-and-sexy blog on (70+ 1,000-3,000 word articles already in the backend queue and counting). I just copped ma Yeti microfone and Logitech webcam to broadcast my creative cray to the whole world. And I'm revvin' up my Pinterest, Periscope, LinkedIn, and Instagram channels to bring you the best and brightest content on how to be a creative badass in whatever industry you're in!
Hope you're ready, boos! 😉
Goal #3: Organize a big, fat virtual summit for sci-fi, fantasy, paranormal, horror, thriller, crime, and action-adventure creators of color
YEP. Dropped THAT on ya too, boo! 😉 Ever since I attended Chandler Bolt's AMAZING 2015 Self Publishing Success Summit, the idea of hosting a kick-ass virtual summit of my own has been poking at me ever since.
I hesitated at first, because I was SUPER swamped with other creative stuff AND because I wasn't sure (at the time) that I wanted to go the "non-fiction / blogger / infopreneur" route quite yet. I think I was still on my path to discovery regarding what exactly I wanted to say, teach, and impart, and to whom, how, and why.
But now that I've figured all that out, and I've brought The Bohemian Badass into the world?
VIRTUAL SUMMITS, SON.
A big one. And it's going to be SICKENINGLY AWESOME. Can you say:
Awesome, GUARANTEED door prizes for EVERYONE from over 50 creators? (Dude, that's like over 50 free things in your virtual tote bag, JUST for showing up!)
Kick-ass writing, storytelling, and craft workshops with 72 hours of free replay?
Being "in the room" with genre writers, filmmakers, game designers, and comics writers (and more) that you love, and creators you didn't know about but WANT to love?
Connecting with a badass community of aspiring, emerging, and established creators and an audience who attends the conference alongside you?
Being exposed to entire libraries (many of them free) of ass-kicking sci-fi, fantasy, paranormal, and horror works that you can't wait to devour?
The opportunity to "geek out" about writing, SFF-H stuff, BLERD n' nerd stuff, cosplay, games, and MORE with a group of awesome folk who "get" you, AND,
The ability to do all this cool shit from the chill comfort of your couch, bed, desk, bike, boat, plane's wifi, your work desk, or wherever you want, because it's VIRTUAL!
All these awesome benefits. PLUS absolutely no risk of contracting the dreaded con-flu, for those of ya'll who understand its harrowing, death-inducing kiss. (I got it once. I've not been the same woman since.)
What say ye to THAT, my badasses? Sounds chill? Well, GET AMPED, CUZ IT'S HAPPENIN'!
Goal #4: Launch at least FOUR signature courses… and a bunch of mini FREE ones
SNAP! Yeah, I took it there. The gantlet has been THROWN, B!
For each quarter of 2016, I'm aiming to launch a handful of courses that are going to really help all you badasses out there.
These babies are gonna empower you to take your creativity by the proverbial sack, manifest it into a gorgeous, ass-kicking product, and then pimp said product to help build the creative lifestyle you want.
How's THAT for a signature, boo? 😉
Check out our preview, course site in progress: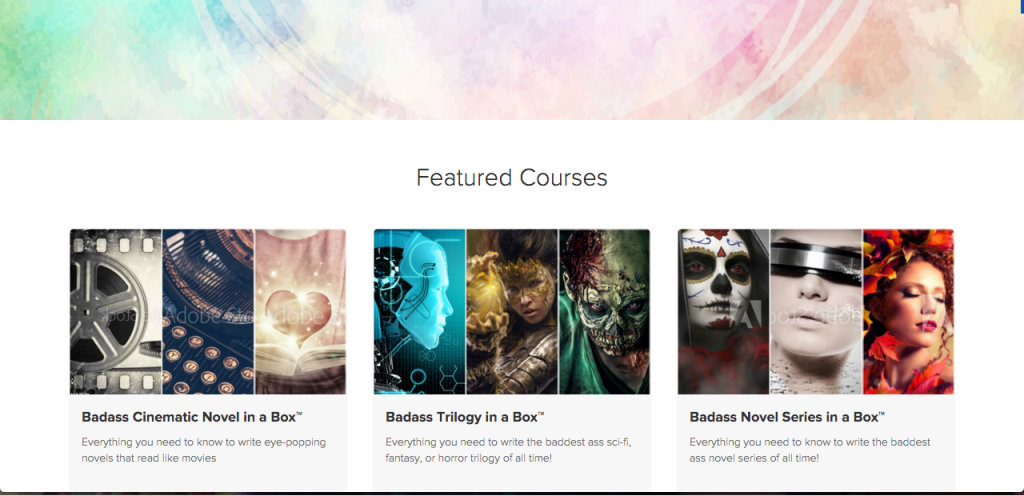 Goal #5: Host The Bohemian Badass Inaugural 2016 Twenty… as in the "Twenty Novel Challenge"!
So, special note: The Bohemian Badass does focus on cultivating and nurturing creatives from different backgrounds, BUT we do have to laser focus on a specific area starting out, else we'll get crazy trying to do it ALL.
So, for us, 2016 is the Year of the Novel.
(FYI: 2017 is the Year of the Film, and 2018 is the Year of the Game. 😉 )
SO-YA! Having said that, I'm kicking off a challenge the likes of which YOU'VE NEVER SEEN!
::lightning strike::
Actually, that's not exactly true. If you've heard of a little, not at all little, most awesome challenge ever, NaNoWriMo, then you'll be familiar with the structure of MY challenge. But instead of one novel during the month of November, I'm challenging you to write 20 novels in the year of 2016.
Yes.
20 novels.
In 12 months.
With 1 writer.
And with 1 assured nervous breakdown.
Actually, who you write with is totally up to you. You can go lone soldier, tag team that ish, or even do group writing, so long as everyone gets credit!
So those are my CA-RAYZY goals for this burgeoning badass blog. I definitely want to step up to the plate for you guys, and make your creative dreams POP (in the most awesome of ways). So what are your dreams and goals for 2016? Drop 'em down below, and of course…
Be badass,
<3 Colby